ARTICLES
CDnow (8.12.02)
Your daily dose of gossip, rumors, innuendoes, sarcasm, and hearsay...
"A cool site for pop music gossip." -- The New York Times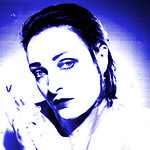 "I usually hate actresses," confided Siouxsie Sioux to a friend at a party thrown for her, her band, and Friday (Aug. 9) at Hollywood's hip Les Deux Café restaurant, "but Patricia Arquette is soooo cool."
Likewise, after the introduction by club promoter Bryan Rabin, Patricia was overheard gushing to a friend that she just met her "hero." Yes, it was indeed a goth and '80s lovefest as all members of Siouxsie & the Banshees and Blondie basked in the adoration from such guests as Lydia Lunch, Macy Gray, Rosanna Arquette, Nina Hagen, the Runaways' Cherie Currie, Matt Sorum, Danny Saber, Jeremy Scott, members of the Melvins and Danzig, David LaChappelle, Bauhaus/Love and Rockets' Kevin Haskins, and others.
Other highlights from the soiree (yes, we were luckily there):
Blondie's Deborah Harry has always been a hottie and fashionista, but we must say that people were simply in awe over her healthy new weight. The blonde babe appeared to be down to a perfect size 8! Bravo!
The 47-year-old Siouxsie Sioux didn't look a day over 30 in her stunning Asian-inspired, long purple/grayish silky dress and her flawless skin. The topper was her short 'do that could best be described as a Twiggy-era pixie cut meets a modern mullet with a mod touch.
Unconfirmed rumor of the night: Lydia Lunch, Nina Hagen, and Siouxsie were spotted getting giddy together, jokingly calling themselves the original Spice Girls, until one of the ferocious three corrected, "No, we're the 'life' girls!" What silly girls!
Paris Hilton –- you know, one of the two blonde "sex, drugs, and rock and roll" daughters of the Hilton clan -– pulled a big-time dumbass move when she accidentally-on-purpose knocked right into Siouxsie and her friends and goes, "Oh Hiiiiii." Siouxsie, who was on her phone at the time, just sneered at the youngin.
Nina Hagen caused quite the stir when she entered the party, asking immediately for "what the English goddess" is drinking and motioning the shape of a large martini glass. (Siouxsie was drinking cosmopolitans for the evening.)
Mad props go out to the powers-that-be behind the fabulous party: Bryan Rabin of Rabin Rodgers Productions; hosts Michele Lamy, Rick Owens, Joseph Brooks, and Michael Schmidt; and DJs Howie Pyro (Danzig, D Generation), Paul Zone (who was in the '70s punk band the Fast), and Brooks.
Back to Articles
www.untiedundone.com